In just two weeks, I will join our Dickinson delegation (Neil Leary, Timothy Damon '12, Sarah Ganong '13, Samuel Pollan '14, Anna McGinn '14, Keziah Groth-Tuft '17) at COP21 in Paris. What is COP21? COP21 is the 21st Conference of the Parties to the United Nations Framework Convention on Climate Change (UNFCCC). This meeting will also serve as the 11th session of the Parties to the Kyoto Protocol (CMP11).  From November 30-December 11, 2015, governments will work to reach a new universal climate change agreement. In light of the recent attacks in Paris, the President of the French Republic, François Hollande, confirmed that the conference would continue as planned. As the world stands in solidarity for peace, we will also stand for global environmental action and awareness.
[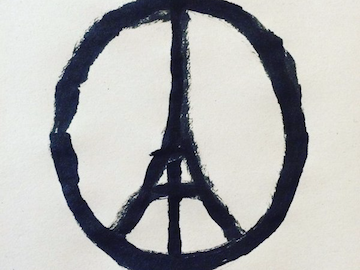 Last December, I attended the 20th Conference of the Parties (COP20) in Lima, Peru, as a result of Dickinson's 2014 Global Climate Change Mosaic. As a part of an interdisciplinary approach to studying global climate change, Dickinson offers students the opportunity to explore multiple dimensions of climate policy, science, and society through the "Global Climate Change Mosaic Program." Following our preparations, myself and 14 other students traveled to Lima to participate in COP20, where we interviewed representatives of national governments, civil society organizations, scientific institutions and environmental groups to better understand and document perspectives on key issues in the climate negotiations. Upon return, the research team reflected on the conference outcomes, wrote research papers using the videotaped interviews, observations of the COP and other materials, gave a public presentation, and created a digital library of the COP interviews. My work culminated in a research project highlighting Article 6 under the UNFCCC, which focuses on climate change education, outreach, and public participation throughout the history of the negotiations. In Paris, I will extend the breadth of my research on Article 6 as I follow-up with climate experts, Party delegates, and NGO leaders that I connected with in Peru. 
This year, our Dickinson delegation is a bit different from usual. Though we are not a formal Global Climate Change Mosaic, our delegation is certainly a mosaic of experiences, classes, majors, and interests; we are comprised of current students and Dickinson graduates who represent leaders in sustainability on campus through CSE, Baird Fellows, and/or Global Climate Change Mosaic, etc. Dickinsonians will call to action in Paris and on December 5th, we will welcome two Rose-Walters Prize for Global Environmental Activism recipients, James Balog and Bill McKibben, at the Human Energy Installation Exhibit in front of the Eiffel Tower for the "Climate Action - Engaging the Next Generation" event.
As the CSE Communications and Media Intern, I will be sharing live COP21 updates on all CSE social media – Be sure to tune in! If you are interested in blogging about the negotiations, we encourage you to join us in the conversation. Follow us #OnTheRoadToParis